PIZZA HUT TUSCANI PREMIUM ALL MEAT
        Like many of us, I can be a creature of a habit. Once I find something I love to eat, I really do stick with it so the list of tried and true favourites is short and sweet. Pizza has been my all time favourite and it already took a while, Pizza Hut really stays on top of them all. Featuring its new Tuscani Collection, I'm sure that Premium "All Meat" is the one that would definitely add flavour to my life.
By just taking a closer look and a peek inside the kitchen of Pizza Hut, I saw the chef and the rest of the staff hard at work. Moments of seriousness are punctuated with bursts of frenetic energy, and I believe that this is where all the deliciousness comes from. Fret not thyself my friends because there is no need to go to Italy because Tuscani Premium All Meat, the best flavour I've been looking for, I found it here at Pizza Hut.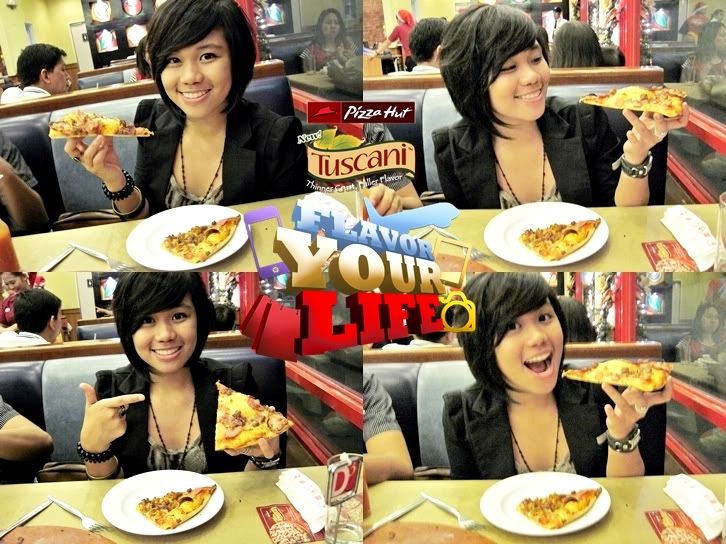 How will "A-L-L M-E-A-T" add flavour to my life? (A)pple iPhone4 would help me bring the best out of the highly extrovert person I really am. It has (L)-ivestream connection and broadcasts of events such as news and trivia, I'll be able to update myself with latest trends about everything what media and social networking sites have to offer. Also, it has (L)-ED flash companion camera which is so handy that it can capture every bit of anything and it would definitely treasure memories like no other. With this, I can also bring (M)-usic along with me everywhere I go. There's nothing more than good rhythm going along with the daily ride of my very adventurous life. This will help me surpass the remaining months of my busy life as a senior nursing student; it will help me develop being an A+ wanderlust blogger at Tumblr; it will also increase my social connection as a young entrepreneur of my own online business and most of all, it'll serve as my infinite communication string to all the people I love all over the world. This will make me (E)-xperience easier multitasking with the help of its awesome (A)-pps/applications. I can duplicate the use of my mobile phone, digital camera, iPod and laptop into one, namely this iPhone4 just like having bacon, Italian sausage, pepperoni, smoked ham and salami into one epic all meat pizza of all time. I believe that this flavour would only be best if I'll get the iPhone4 as Christmas gift, Birthday gift (February) and Graduation gift (March) with the help of the perfect flavoured pizza, which is no other than, Premium All Meat from Pizza Hut's (T)-uscani Collection.
The preparation of this best ever All-meat Pizza is varied and unique. The flavour is completely a combination of the "familiar" with a twist of something "new" and often the "unexpected" taste. If I were you, I would do myself a favour and make it a point to stop by the nearest Pizza Hut in your place and taste thy glorious pizza prepared with a whole lot of heart or just dial 911-1111 to make it delivered on your doorstep. The pie itself, fresh ingredients, interesting preparations and service with aloha, they're just a few from a hundred awesomeness that Pizza Hut Tuscani Premium All meat has to offer. I'm sure that this will keep you coming back for more. WATCH THIS FOR ADDITIONAL FLAVOR!!!  ♥