This season, treat yourselves to one of Pizza Hut's finest pizzas to date.
Introducing the Pizza Hut Tuscani pizza, a new pizza line so good that it is named after Tuscany, the Italian region hailed as the birthplace of the Italian Renaissance, awesome Italian cuisine and every foreigner's dream destination.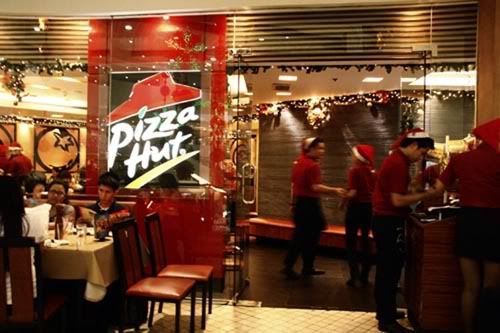 After chancing upon numerous advertisements of Pizza Hut's new mouth-watering creation, my curiosity was piqued and finally satisfied when together with my family, I finally had the chance to taste this much-fussed over pizza and find out what all the hype was about.
It wasn't hype at all.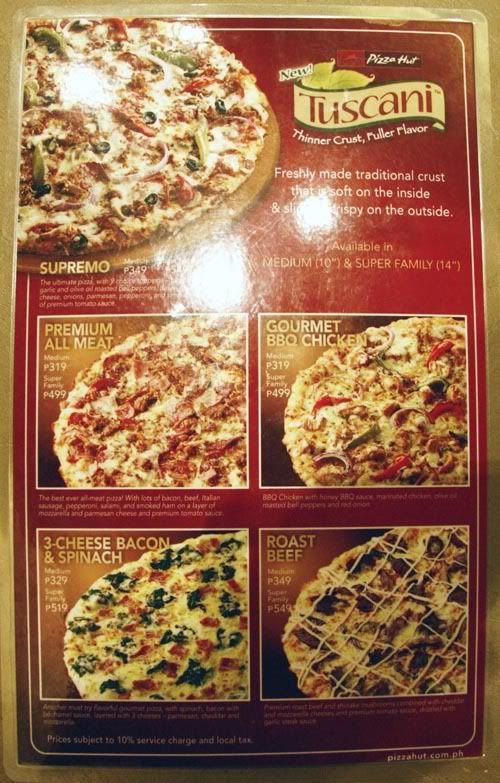 The Tuscani Pizza comes in five different flavors – Roast Beef, Premium All Meat, Supremo, 3-Cheese Bacon and Spinach and Gourmet BBBQ Chicken. It wasn't hard to choose which flavor to pick from the four. Since ours is a family of carnivores – we all live on meat, just as much as we live to eat – it was a no brainer. We placed our order for the all meat Tuscani Pizza.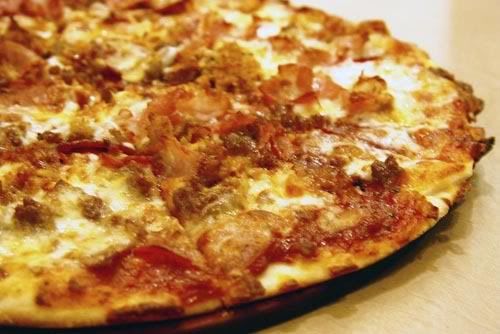 When the pizza finally arrived, it actually looked almost too good to eat! With a hefty helping of meat toppings, fresh tomato sauce oozing over the edges and wonderfully crisp bits of cheese around the sides, both the sight and the aroma that identifies every Pizza Hut pizza as distinctly theirs awakened my salivary glands and stimulated my appetite.
After grabbing a slice, I sank my teeth into the mouth-watering pizza. I was impressed. It tastes as amazing as it looks and the combination of the meat, tomato sauce and cheese burst in my mouth as a lovely, flavorful symphony.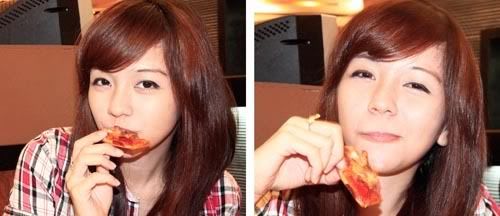 My sister Melissa loved it too, as she polished off a piece in no time!
Slice, after slice, after slice, it was easy to pin down what makes this pizza so good. The Premium All Meat Tuscani Pizza has a perfectly thin, light-weight crust with a delicate crispness to the bottom and a soft bread-y top, generously covered with layers of fresh ingredients. The hefty amount of toppings ensures that one gets a mouthful of meat with every bite. The savory taste of the beef and smoked ham, the sweetness and saltines of the bacon and pepperoni and the spicy taste of the Italian sausage and salami provided a combination that was neither too assertive nor too subdued, as it blended perfectly with the natural sweetness and the acidity of the tangy tomato sauce, the creamy mozzarella and sharp parmesan cheeses.
The slices are generously topped, a little salty, and moderately greasy in that great way that pizza is supposed to taste.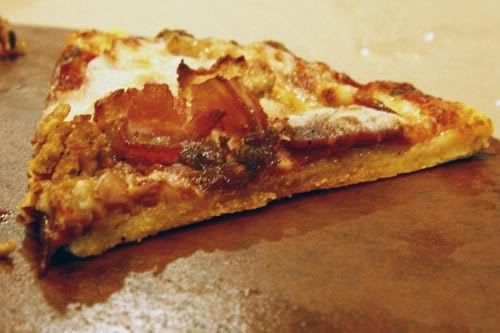 Truly, pizza does awaken some strong emotions in me, just as gorgeous but functional electronic gadgets do. In the spirit of adding flavor to my life, which Pizza Hut has already achieved with the tasty Premium All Meat Tuscani Pizza, blogging about my tasty experience also gives me a chance to win an iPhone 4, one of the nicest and enticingly drool-worthy gadgets in the market today.
Writing has always been my passion and for the past year, I have been trying to keep my little niche in cyberspace interesting and updated. Unfortunately, blogging is just something I have not been able to do as of late because of the constraints of having to lug around several gadgets with me in order to come up with a post worthy of being read by readers like you. Every blogger knows that entries are composed of text and photographs, and yes, even videos. Unfortunately, more often than not, I don't always carry a camera with me and images I have attempted taking with my presently obsolete camera phone always come out too grainy. And yes, believe it or not, I am one of those people who still jot down ideas on a tiny notebook. However, by the time I get home to actually sit down and type in a blog entry, inspiration has already flown out of the window. With the iPhone 4, I may just be able to move on and out of my prehistoric habit of still keeping a tiny notebook and start getting used to easily typing in my thoughts when inspiration hits so as to instantly upload a blog entry to share with the rest of the world. Likewise, the HD camera will also allow me take vibrant photographs to accompany my text, as demonstrated by my dad's photograph above, using his iPhone, and even shoot videos that would surely be an added treat to readers. Of course, it's all that and definitely more, all while allowing me to make and receive calls and messages from family and friends. Sleek, powerful and efficient, truly, it is the most functional gadget that will surely add flavor to my life!

I have been having been an avid Pizza Hut fan for as long as I can remember. I was 4 years old when I took a bite off my first Pizza Hut Pan Pizza and through the years, Pizza Hut remained constant in adding flavor to what would have been a flat and tasteless existence for me. So what are you waiting for? Head over to the nearest Pizza Hut in your area and add flavor to your life. With five different varieties to choose from, there is definitely something to satisfy everyone's taste.
Whether it's the pizza or the prize that I have my heart set on, in the end, it really is all about the flavor. And that is what Pizza Hut achieves with the the Pizza Hut Tuscani Pizza.
Valerie V. Mayuga / 29 / New Manila, Quezon City